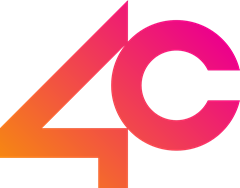 About
4C is an international consulting company that helps companies transform from product focused to customer obsessed. It brings customer experience to life by combining three core capabilities:
designing strategies to optimize customer journeys
exploiting data to unlock customer insights and make smarter business decisions
implementing a worldwide omnichannel CRM system to support customer strategies. 4C is platinum consulting partner of Salesforce.
With more than 20 years of experience, 4C completed over 1000 projects to date. 4C's head office is in Mechelen, Belgium. In addition to the office in Mechelen, 4C is also based in Brussels and Ghent (Belgium). 4C offers its services in Pan Europe. Recently, 4C expanded to the United Kingdom and France, Denmark, the Netherlands.
4C is member of PAPUD (Profiling & Analysis Platform Using Deep learning) consortium to exploit unstructured text data to unlock customer insights and make smarter business decisions. We experience that more than 70% of customer interactions results in unstructured data. While containing extremely important information, this unstructured data is not being exploited by the company, which results in losing a lot of actionability towards valuable customers. It's a very time-consuming job to read all those unstructured documents and it requires a lot of skills to treat those documents well. For example, the reader needs to know the document's language, needs a lot of business knowledge to transmit the documents to the right person in the organization, needs to know how to prioritize the documents, etc.
To become a customer company, it is important to have a 360° actionable view of your customers. With this knowledge, companies can give the customer a perfect personal experience when interacting with the company. In a digital world, companies become more accessible. Customers can contact companies through web forms, e-mails, customer surveys, chat functionalities, company apps and social media (omnichannel). The different formats and increasing amounts of messages make it harder for companies to maintain a 360° view.
Moreover, companies in Belgium face an extra challenge because of the multiple official languages spoken within a relatively small client base. To automate text analysis, it is important to have large data sets. By dividing the group of customers based on language, a lot of potential knowledge is lost. This is the reason why we have a multilingual AI platform named TellMi.
Recent advances in machine learning and deep learning make it possible for a computer to analyse unstructured data. A very time-consuming job can be done much quicker by a computer that acts like a human brain. TellMi will be the solution to (1) gain productivity, (2) reveal hidden information in unstructured data, (3) improve business decisions, (4) become more customer centric (for example actionable insights to improve customer satisfaction), (5) overcome language restrictions to be able to make a language independent analysis of all incoming documents and (6) improve traditional machine learning models using information revealed in unstructured data (for example improve customer churn models).
TellMi will be a generic platform. It is language independent and it will be able to tackle different input formats of unstructured data (text, speech, video and images).

Contact